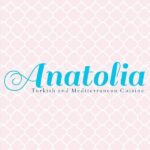 We serve the delicious dishes of Mediterranean and Turkish cuisine. Please take a look at our menu and let us serve. You will find great tasting and affordable food at a very enjoyable and clean setting. While we have plenty of tables, we also offer traditional Turkish seating, with cushions and wooden and copper tables.
Come and enjoy one of Bloomington's finest treasures with a hot cup of Turkish tea.
Dear friends of Anatolia,
We can't tell how much we missed you! We have been closed since mid March of 2020. Today is…

Posted by Anatolia on Friday, February 12, 2021
What is Anatolia
One of the great crossroads of ancient civilizations is a broad peninsula that lies between the Black and Mediterranean seas. Called Asia Minor (Lesser Asia) by the Romans, the land is the Asian part of modern Turkey, across Thrace. It lies across the Aegean Sea to the east of Greece and is usually known by its Greek name Anatolia.
Asia Minor juts westward from Asia to within half a mile (800 meters) of Europe at the divided city of Istanbul, where two suspension bridges over the strait of Bosphorus link the two continents. Asia Minor is also bordered by the Sea of Marmara on the northwest. The area of the peninsula is about 292,000 square miles (756,000 square kilometers)
Source: http://www.allaboutturkey.com/anatolia.htm
Send Message to listing owner