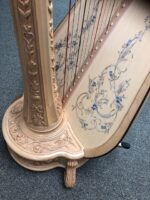 We provide harp lesson, harp rentals, harp sales and servicing as well as music books for harps and music for events.
Vanderbilt Music Co provides a wide range of personalized services for harpists, harp lovers, those interest in learning the harp or having the harp played at a memorable occasion. We are located at 3901 E 3rd St with two convenient entrances off of 3rd or Smith.
We pride ourselves on being a company dating back to 1970's with a commitment to Bloomington and support of our wonderful IU School of Music.
Contact us today to begin your harp adventure!
Send Message to listing owner