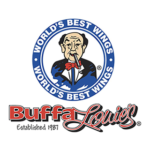 BuffaLouie's at the Gables has been an Indiana tradition since 1987. Stop in and see why we've been named one of the top 10 wing joints in the country!
Since 1987 BuffaLouie's has been an Indiana tradition!
BuffaLouie's was founded by Jay Lieser, an Indiana University student, and Buffalo NY native. The store was named after Jay's grandfather, Louie Lieser. In fact, the company logo is a caricature of Grandpa Lou smoking his ever-present cigar! With the help of Jay's parents (Ed – known as Mr. Louie) and Trudy (known as Mrs. Louie), the business took off. Using original family recipes, BuffaLouie's has brought a distinct flavor to Bloomington and the surrounding communities.
From the original location on 17th street to the current location at The Gables Building, BuffaLouie's has always been Bloomington's number one family-friendly dining option.
Current owners Ed & Jaimie Schwartzman have been running the Bloomington Restaurant since 2006, and have maintained all of the staples that make BuffaLouie's so successful. Fresh ingredients, everything made-to-order and always served with the warmest smile. Stop in and see why USA TODAY selected BuffaLouie's as one of the TOP TEN Wing Joints in the country!
We invite you to experience all that BuffaLouie's has to offer. Read about our historical building in Bloomington IN, The Gables