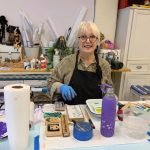 Carolyn is an experimental artist who draws her inspiration from both the natural and the ethereal worlds, creating colorful non-representational or impressionistic works.​
She paints in watercolor, acrylics, and mixed media on paper, yupo [synthetic paper], canvas, and fabric. Carolyn is also a member of the Experimental Artists of Brown County, a member and founder of Bloomington Watercolor Society, and past president of Gallery North.
​Additional paintings and other art may be seen by appointment at her home studio, Brushfire Studios southeast of Bloomington.
Send Message to listing owner