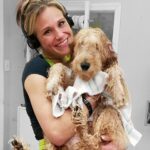 Offering professional pet grooming services for all your dog and cat needs.
We are constantly involved with educating ourselves when it comes to providing you and your pet with the best services in the pet care industry. We are currently using the Iv San Bernard & Mauro shampoo & conditioning products at our salon. Each of these product lines have been specifically formulated to clean, protect and replenish the coats natural oils, reducing skin dryness and irritation. I believe it's important to have a variety of products to chose from because not all dogs skin and coat are the same.
For the complete spa experience we do offer the Madra Mor mud masks. There are 4 different types of Madra Mud that can be used to help rejuvenate and treat dogs with skin issues like: dry itchy skin, hot spots, yeast, and excessive shedding. For an additional fee this service can be added. For more information please feel free to check out their website.  http://www.madramormud.com
When we're not at the shop grooming we are attending grooming seminars and conferences. It allows us to stay up to date and educated on all the changes in this industry.  There is quite a bit of science that has been done on your pets skin and coat that we think it is important to stay up to date on the newest products and therapies on the market.
Call us or follow the link below to book an appointment online!
Send Message to listing owner