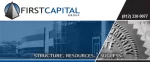 First Capital Group leverages significant financial and intellectual capital and a comprehensive network of business resources to ensure its portfolio businesses and commercial properties achieve long-term profitability, productivity, and sustainability.
First Capital Group is an investment accelerator that specializes in multi-million dollar new business launches, service expansions, commercial property development, large-scale infrastructure deployments and complex corporate and real estate acquisitions. The firm leverages its significant intellectual capital, financial resources and business acumen to quickly and effectively commercialize new ventures, infuse existing companies with high-impact growth strategies and transform commercial properties. By providing its investments with a strong fiscal and business foundation and a long-term network of support, First Capital Group ensures that its ventures realize their full potential and become industry leaders.
In addition to financial strength and stability, First Capital Group's unique accelerator model provides its portfolio companies and property development projects with best practices in all areas of the enterprise, including sales, marketing, human resources, law, accounting, technology, business process, infrastructure management, operations and procurement. It is these comprehensive resources combined with experienced leadership that lead First Capital Group's investments to long-term profitability, productivity and sustainability.
First Capital Group currently owns and directs a growing portfolio of more than 40 thriving businesses that span the manufacturing, logistics, health care, biotech, storage, and technology industries. During the last 20 years, First Capital Group's assets have grown to in excess of $150 million and more than one million square feet of real estate across the United States.
The company's leadership team brings a sum total of more than 150 years of experience to the firm. These seasoned executives function as the board of directors for the portfolio companies and development projects under their charge, providing ongoing counsel and oversight. By staying actively in touch and involved, First Capital Group's investments benefit from decades of business experience, operational expertise and broad industry perspective.
Started in 1983, First Capital Group is a privately-held corporation headquartered in Bloomington, Indiana.
Send Message to listing owner