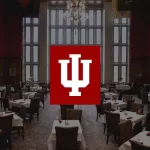 Soaring university dining hall offering an eclectic buffet lunch & brunch in regal, airy surrounds.
No visit to Indiana University is complete without lunch at the Indiana Memorial Union's Tudor Room. Bask in the true glory of old IU as you enjoy our exquisite buffet options in this pinnacle of collegiate gothic architecture.
Menu and Pricing
Savor a meal with friends and colleagues in a beautiful and relaxing atmosphere where china, table linens, and waiters are still in vogue.