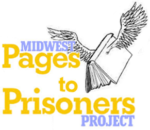 The Midwest Pages to Prisoners Project is an all-volunteer effort that strives to encourage self-education among prisoners in the United States.
By providing free reading materials upon request, we hope to promote critical thinking behind bars. We develop relationships so people on the outside can better understand and combat the injustices faced by folks who are incarcerated. We are aware the prison industrial complex targets people of color, in poverty, and in the LGBTQ community.
The project exists to alleviate a lot of the pain caused by the criminal justice system, and to provide a direct opportunity for self-education and collective struggle. Additionally, we exist because prison libraries sometimes fail in this respect: they are understocked or are only able to be patronized during specific and limited hours. We exist because prisoners are not strangers: they are brothers sisters, friends, cousins, mothers, and children.
Volunteers and Donations are always needed and appreciated!
Send Message to listing owner