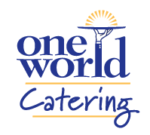 One world Catering & Events will provide you with a new and progressive option in event planning and catering. Let us help you plan your rehearsal dinner, wedding, corporate function, luncheon or other special event. We'll help you plan everything from the perfect meal to decor to flowers, rentals, and photography.Our eagerness to source local ingredients paired with our enthusiasm to make your event as unique and hassle-free as possible means we'll provide you with the freshest food and ideas in Bloomington!
One World Catering was born out of the back of Lennie's kitchen in 2008. Growing quickly in size and reputation, our company moved to our own facility in 2009. Featuring the food of Executive Chef Corbin Morwick and under the direction of General Manager Lynn Schwartzberg, our company has been recognized for our creative cuisine made from fresh, local, quality ingredients and our impeccable service staff. In summer of 2018, we moved again, this time to our own event space, One World at Woolery Mill. This new industrial chic building allows us the ability to offer the same high-quality food and impeccable service both off-site and at your home. So whether it's a first class business meeting, small luncheon, or the wedding of your dreams, we are here to meet your every need.
Along with our belief in delicious food and professional service, we continue the One World Enterprises tradition of valuing community partnerships and sustainable business practices. We strive to source our ingredients locally, and to support Bloomington not-for-profits whenever possible. We preserve our surroundings by composting food scraps, recycling, and use environmentally-friendly disposable products. We work to not only serve you and your guests, but to also serve the greater good.
Send Message to listing owner