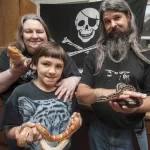 Scaly Tailz is a not for profit reptile and amphibian education and rescue group. We offer free educational reptile demonstrations (schools, school events, Wonderlab, Public Libraries, Boxcar Books, and so forth). We also take in reptiles and amphibians that have been abandoned, as well as those that just need a new loving home. If it is an animal we are unable to accept (venomous, crocodilians, iguanas, extremely large snakes, or reptiles that are contagious), we will refer a person to one of the other Indiana reptile rescues we work with. We never charge for our services (we do accept donations)
Scaly Tailz educates and empowers local organizations by hosting live demonstrations of reptiles and amphibians, informing on and supporting wildlife conservation, and providing safety to reptiles and amphibians in need. During our demonstrations, we talk about the animals we have brought, wildlife conservation, and the ways to be responsible pet owners.
Education – Share our love of reptiles and amphibians by learning more from Scaly Tailz! We offer a range of educational demonstrations, consultations, and programs. These interactive experiences offer participants unique opportunities to discover more about reptiles, amphibians, and our role in the environment. Scroll down to find more details on the services we provide!
We also offer a safe and loving home for reptiles and amphibians who have been abandoned, or who are currently looking for a new home. We are currently unable to take in crocodilians, venomous species, iguanas, or large snakes…but we have experienced and willing volunteers who are able to help with these unique individuals.
Send Message to listing owner