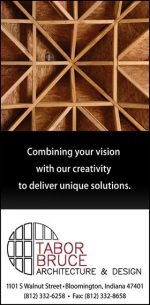 Tabor/Bruce's primary objective is to provide our clients with comprehensive architectural services, strength in design and integrity in practice.
Tabor/Bruce Architecture & Design is a full service professional architecture firm that was established in 1968 and has been providing assistance in design to clients throughout the Midwest, and currently licensed in Indiana, Illinois, Ohio, Florida and Montana. Our main objective is to provide our clients with affordable comprehensive architectural services through strength in design and integrity in practice. Our clients are our business partners. Our staff strongly believes that design is a collaborative process, uniquely expressive to the individual goals of each client, moreover; we strive for excellence in our process and seek to make great architecture affordable.
General Services
We understand the needs and complexities of our clients while providing cost effective architectural services. Our goal is to work as part of a TEAM to deliver projects with large firm expertise and small firm costs and hands on attention. We collaborate with your leadership team to develop an understanding of your goals and vision. We are a forward thinking firm that not only provides creative, cost effective solutions, but environmentally conscious designs as well. Tabor Bruce was one of the first architectural firms in Southern Indiana to embrace Leadership in Energy and Environmental Design (LEED), and continues to be a leader in the area.
Commercial Design / Architecture
At Tabor Bruce we put our focus into creating a cost effective plan through green building and our unique design capabilities. Being at the forefront of technology, we?ll create a plan that?s cost effective and capable of being completed quicker.
Residential Design
At Tabor Bruce Architects, we provide innovative residential design solutions for our client?s unique needs. With a focus on creative and functional design from Prairie Style to Bungalow and Craftsman styled homes. We assist our clients from the initial concept sketches all the way through construction. We work hand-in-hand with your contractor in delivering your home under budget and in a timely manner. Our experience will ensure that you enjoy the construction of your new home and that it is designed to meet your needs.
House Plans
Our unique house plan design service provides you with architecturally designed, innovative, high?end plans at a fraction of the cost. Look through our house plans today and build the home you?ve always dreamed of. Check back with us often as new plans are being designed monthly.
Renovations
Our firm specializes in renovation projects. Every renovation project requires careful evaluation of existing facilities from utilities to a complete physical assessment of the structure, to minimize the hidden costs and to insure the budget is met. It is impossible to conduct any renovation project without working closely with the client to master plan the current use and to forsee the future changes; we have extensive experience and success with our clients designing projects that are forward looking and planned to meet future expectations and uses.
Send Message to listing owner