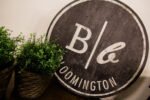 A step-by-step instructed workshop for constructing stylish and unique wood decor projects from raw materials to final product! You will go home with a handmade, by you, piece of home decor!
Are you looking for a night out with friends? Is your inner DIY itching for a fun new project without having to buy all your own supplies and make a mess at your house? Then BOOK A WORKSHOP at Board & Brush Creative Studio in Bloomington.
"Gateway to Scenic Southern Indiana", is the city of Bloomington, home to Indiana University. It is located along Interstate 69 between Indianapolis and Evansville. With nearby Lake Monroe, parks and hiking trails, Bloomington offers many adventures for all levels of outdoor fun. The fourth largest city in Indiana, the downtown scene embraces with a small-town vibe. Neighboring Hotel: Springhill Suites- Bloomington. Restaurants: Bub's Burgers, Upland Brewhouse, Malibu, Janko's Little Zagreb, Social Cantina, all within city parking walking distance.
Board & Brush Bloomington is a licensed establishment.
Wine is available for purchase in the studio.
Please note, BYOB is not permitted.
Send Message to listing owner