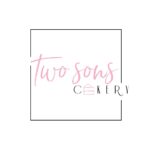 "Where Cake Meets Art" – Specializing in unique, bespoke wedding cakes and special event cakes. By Appointment Only.
We are a certified, appointment-only cake studio located just south of Bloomington, Indiana. With award winning cakes, Two Sons Cakery provides an unforgettable experience by inspiring a culture of pride and customer satisfaction.
Creating top quality, imaginative, and delicious baked treats, we make sure to respond positively to the needs of the community. Whether you're looking for a simple naked cake or something more creative and unique, we've got just the thing for you!​
As a Christian based business it is our responsibility to cultivate nothing but respect and love to one another. We proudly serve everyone in our community!
CAKE & CUPCAKES
*Gluten Free available for additional charge
Vanilla
Chocolate
Marble
Red Velvet
Strawberry +$3
Funfetti +$3
Coconut +$3
Lemon +$3
Carrot +$3
Cookies 'n Cream +$5
Key Lime +$5
Orange +$5
Raspberry +$5
Apple Spice +$5
Pumpkin Spice +$5
Pink Moscato +$7
BUTTERCREAM
Vanilla
Chocolate
Strawberry +$2
Cream Cheese +$2
Funfetti +$2
Pistachio +$2
Hazelnut +$2
Maple +$2
Salted Caramel +$3
Pumpkin Spice +$3
Espresso +$3
Raspberry +$3
Lemon +$3
Key Lime +$3
Orange +$3
Coconut +$3
White Chocolate +$4
Champagne +$4
MACARONS
Vanilla Bean
Chocolate
Strawberry
Raspberry
Lemon
Orange
Cherry
Coconut
Lavender
Pink Champagne
Cake Batter
Chocolate Hazelnut
White Chocolate
Chai
Pistachio
Cheesecake
Espresso
Pumpkin Spice
Honey Cinnamon
Salted Caramel
Maple Bacon
Send Message to listing owner